This classic chocolate cake recipe pairs delicious cake layers with a rich and silky chocolate buttercream. It's the only chocolate cake recipe you will ever need!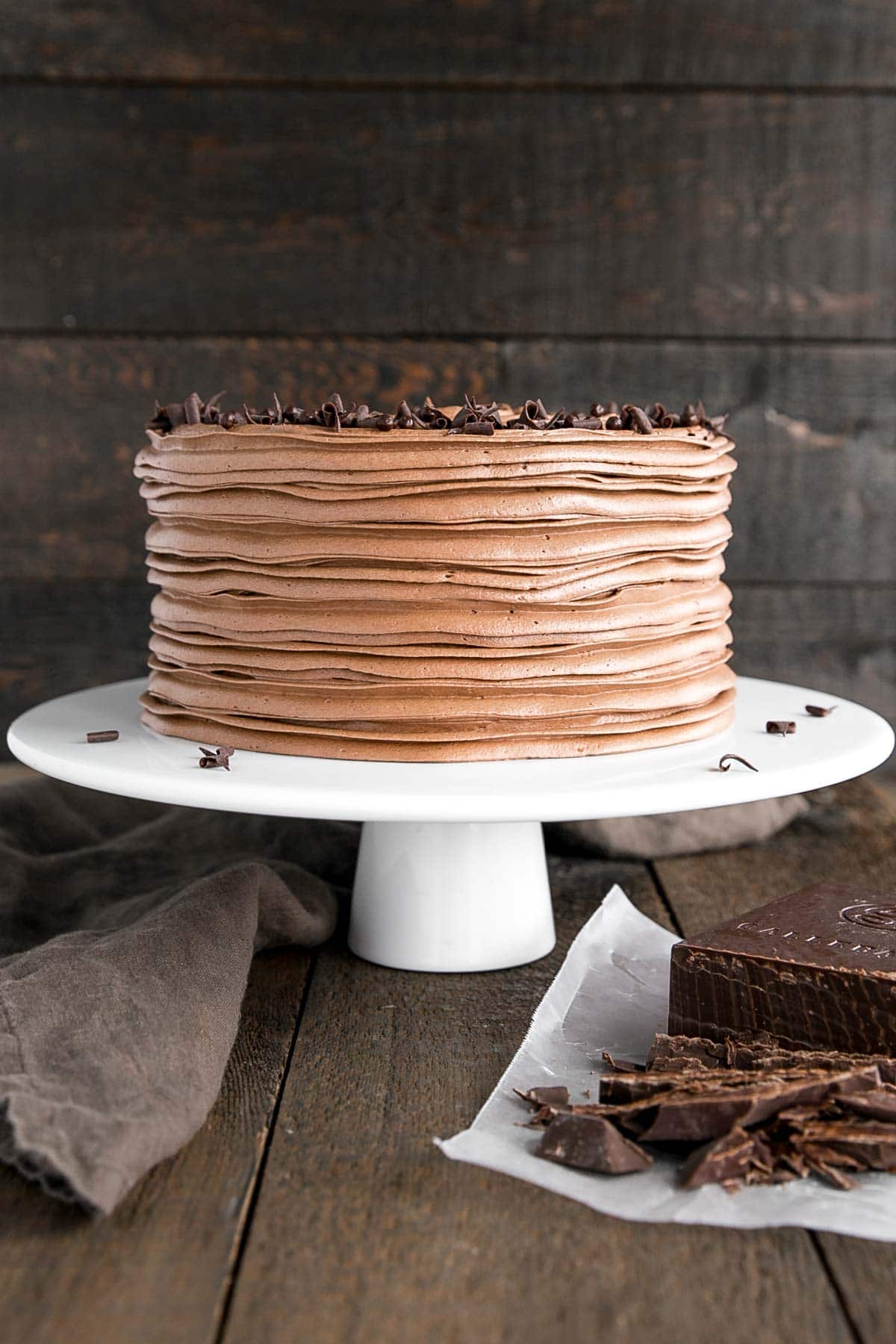 There are few things more comforting in this world than good old chocolate cake. It is, in fact, one of my most favourite things to eat. The classic combo is truly the best.
To be honest, I don't know what's taken me so long to get the chocolate on chocolate pairing this classic pairing up on the blog!
I have no shortage of chocolate flavored cake recipes. Most of them use the same ingredients and formula, just in different quantities depending on the size of the cake.
One of my oldest and most popular recipes is my Mocha Cake, which I used as a basis for the best Chocolate Cake recipe I bring you today.
How to Make the Best Chocolate Cake!
If you're looking for a rich, delicious, and moist chocolate cake, this is the recipe for you! I've been using this one for years and I love it. Not only is it super easy to whip together, it bakes up perfectly every time.
It's a very simple recipe to make:
Combine dry ingredients
Combine wet ingredients
Mix both together
Bake
Most of my recipes can be made in either two 8″ pans or three 6″ pans, but for this cake recipe, it's a little different.
If you want to make a three-layer 6″ cake, be sure to use pans that are at least 3″ tall, or use the recipe here that has slightly lower quantities.
You'll often see this kind of chocolate cake recipe using hot coffee instead of hot water in the batter, and you can use either.
I used to use hot coffee (it's supposed to enhance the chocolate flavour), but I actually found it added some bitterness to the cake. Also, I'm generally pretty lazy, and it's a lot easier to boil up some water instead of making coffee!
One thing to note is that the cake batter will be very thin and liquidy. This is normal! The batter also rises a lot so be sure not to fill your pans more than half full or so.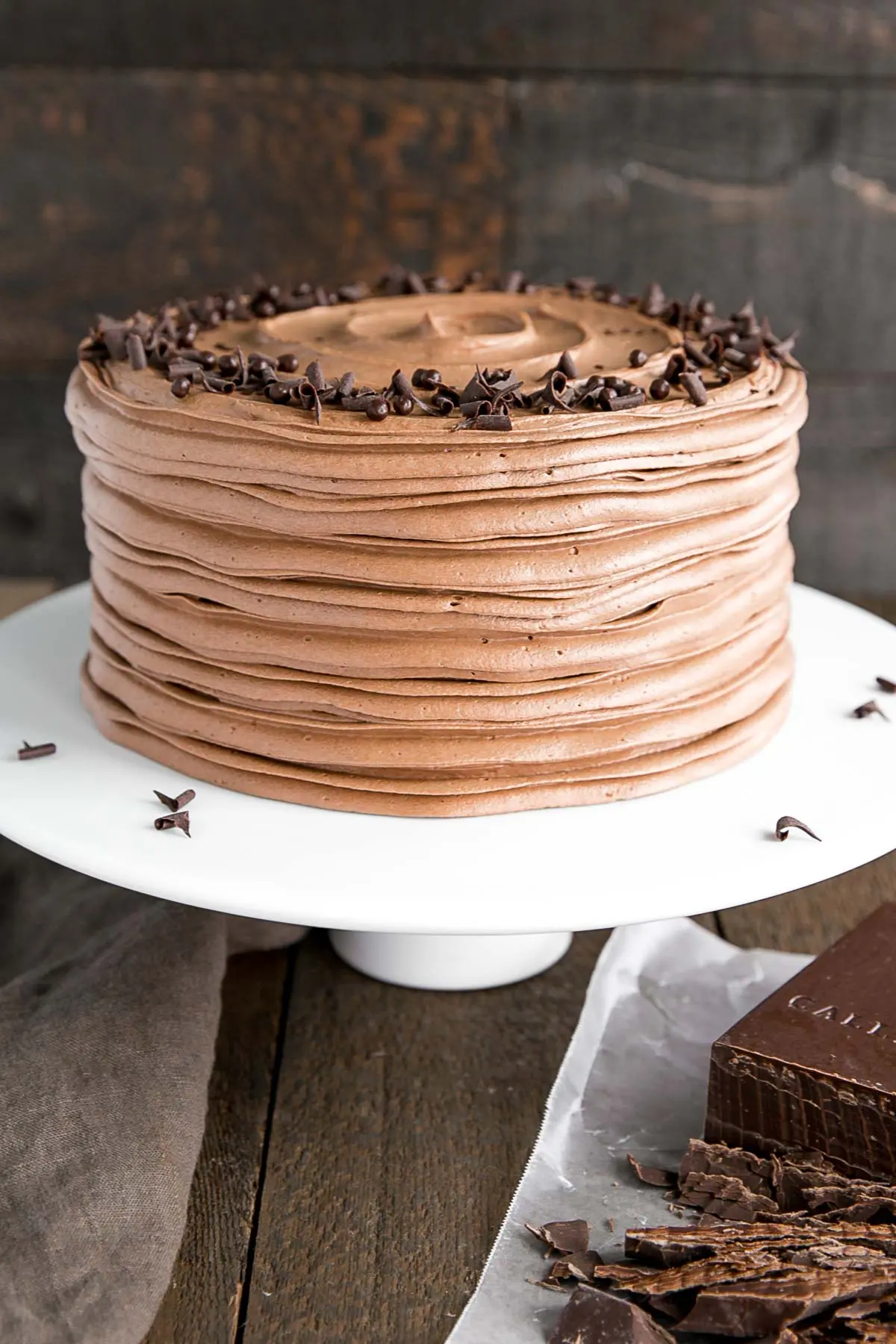 Chocolate Swiss Meringue Buttercream
This chocolate buttercream recipe is pure heaven. It is seriously SO good and pairs so well with this chocolate cake. I've made chocolate Swiss meringue buttercream in the past, but have always struggled a bit getting it to look and taste very chocolatey.
With American buttercreams it's easier to achieve that fudgey flavour and color. As such, I decided to add in more melted chocolate than I have in the past. I used 12oz of it in this recipe where I typically would probably use 8oz or so.
The resulting frosting was amazing BUT it was quite soft. It's possible that my chocolate wasn't quite cool enough before I added it to the buttercream, but the buttercream needed multiple sessions in the fridge/freezer to firm up.
Typically if your Swiss meringue buttercream is soupy, it's either because your meringue was still too warm when you added the butter or your butter was too soft.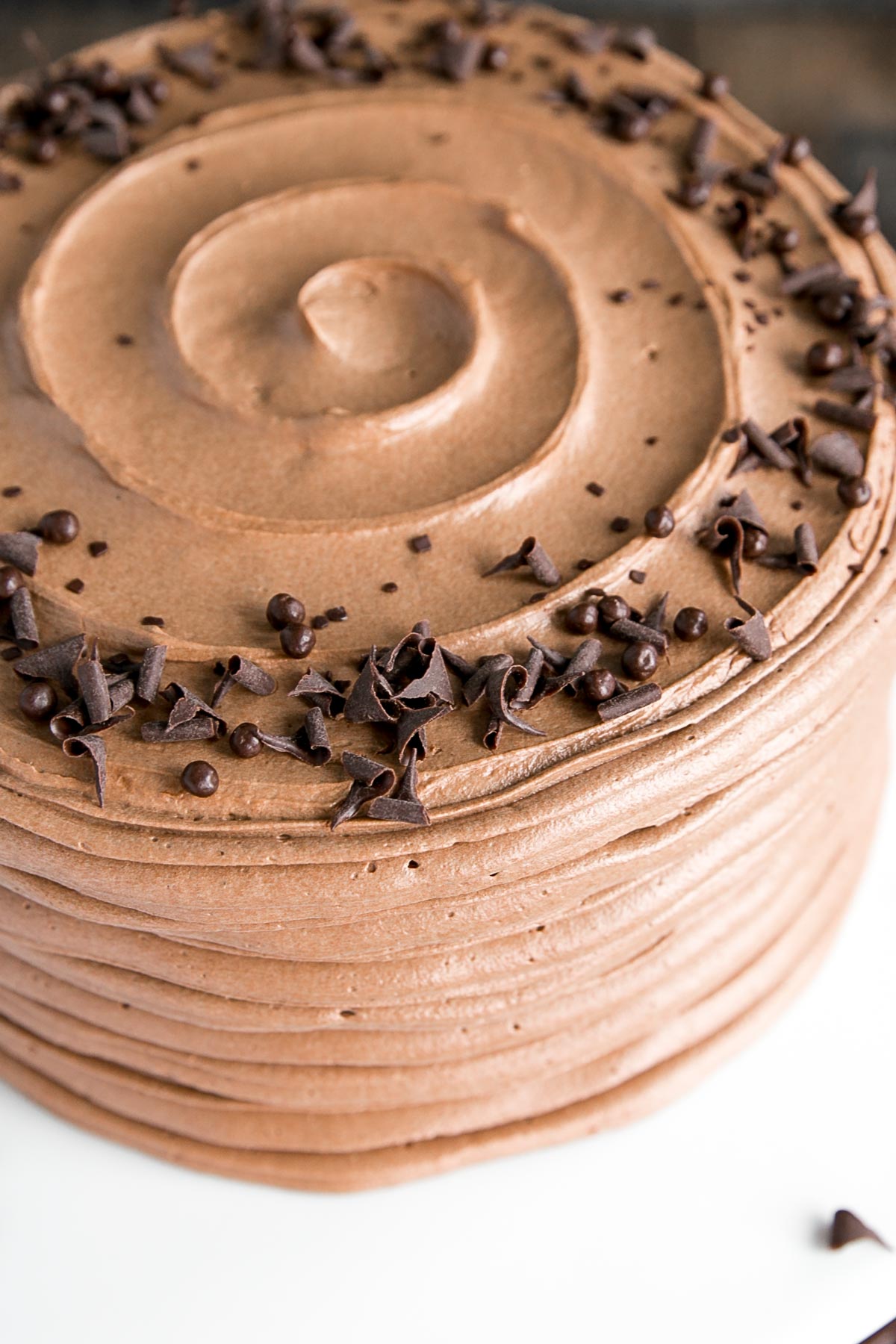 Usually, you can just stick the whole bowl in the fridge for 20mins and rewhip it, and it will come together perfectly. You can read more about it in my How to Make Swiss Meringue Buttercream post.
This didn't quite work out for me until (after two 2omin fridge sessions), I stuck it in the freezer for 10mins. It whipped up perfectly then, but it was still softer than a typical buttercream would be, and got even softer as I was frosting the cake due to the heat of my hand on the piping bag.
So if you don't mind a softer frosting, go for the full 12oz of chocolate. But if you want something easier to work with, use 8oz instead (which is what I recommend in the recipe). It won't be as dark, but it will still be delicious.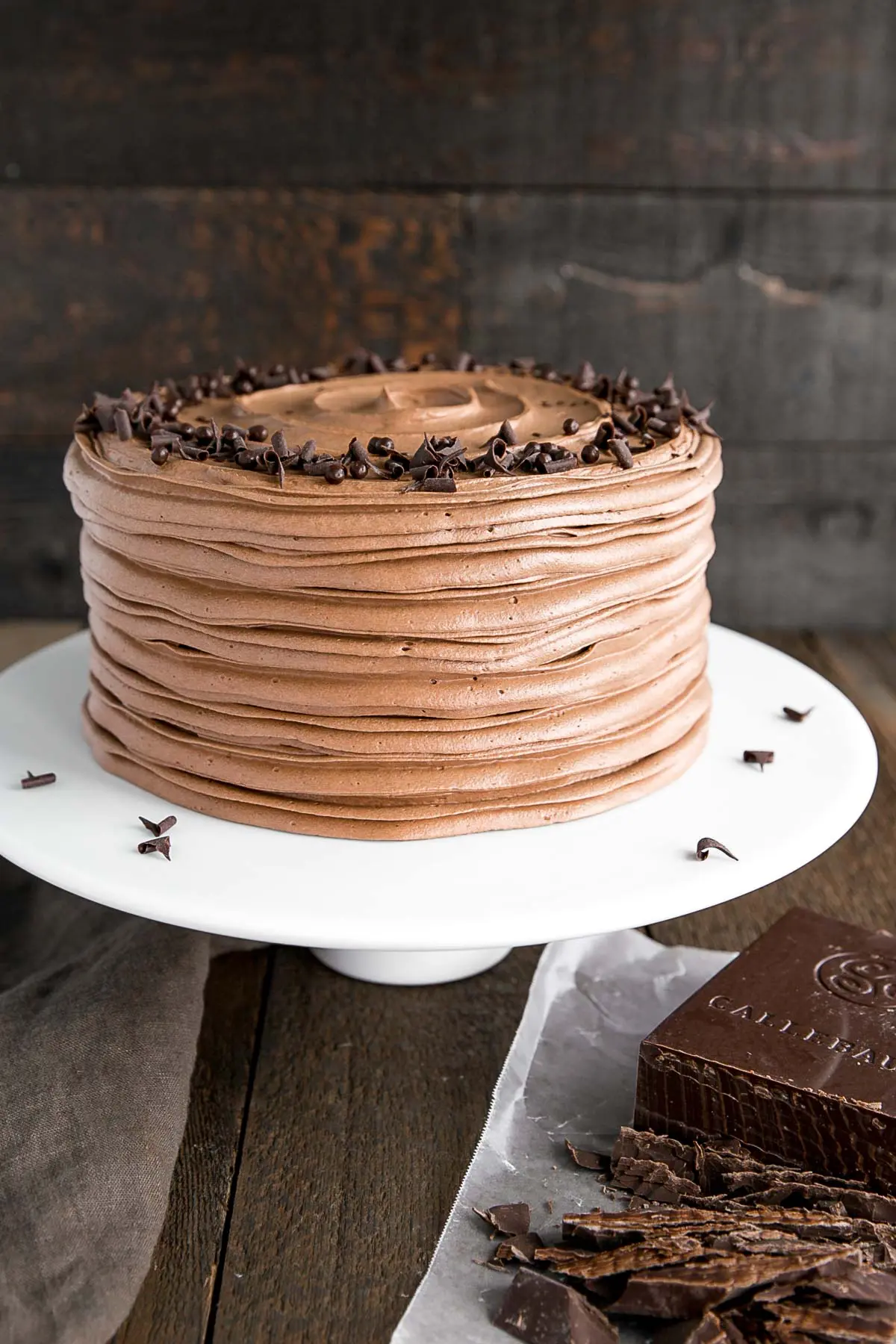 The Best Kind of Chocolate To Use
Most often when I'm using chocolate in ganache or frosting, I use a good quality semi-sweet chocolate from Callebaut. This time, because I wanted a darker color, I chose to use bittersweet chocolate. It was amazing.
The buttercream is already so sweet due to the meringue, so the bittersweet chocolate is a perfect compliment. Unfortunately, I don't know the percentages of any of the chocolate I buy, as the packaging doesn't list them.
Either route you decide to take (semi-sweet or bittersweet), be sure to use the best quality chocolate you can get your hands on.
This typically excludes anything you'd find in your local grocery store, but Lindt will do if you don't have access to anything else.
The decorating technique for this Chocolate Cake here is very simple, though the soft buttercream did give me some trouble, and I ended up scraping it off and starting over.
All you need to do is fill a piping bag fitted with a 1M piping tip, and pipe rows of frosting starting at the bottom. Rotate your cake turntable as you pipe so you get one continuous line.
Start and stop in the same place so your "seam" will all be in one spot at the back of the cake.
This classic chocolate cake is in my top 5 favourite cakes of all time. I am sure you will love it as much as I do!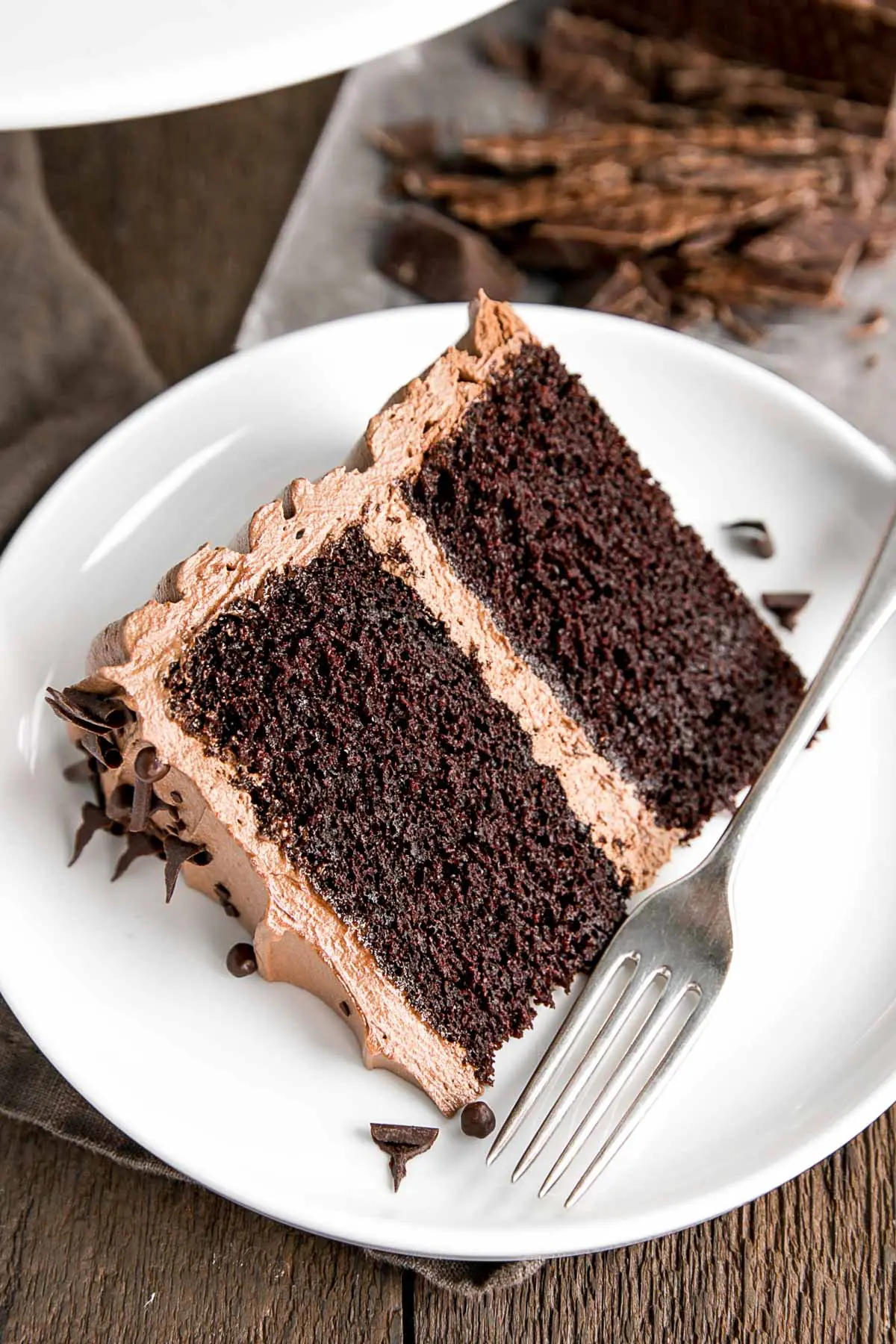 Frequently Asked Questions
How can I convert this recipe?
You can use this recipe to make a three-layer 6″ cake instead, but make sure your cake pans are 3″ tall. Or use this recipe here.
To make cupcakes, all you need to do is reduce the baking time — start checking at 15mins or so. The recipe will make 18-24 cupcakes depending on size.
For other conversions go here.
Can I make it in advance?
The cooled cake layers can be baked ahead of time, double wrapped in plastic wrap, and frozen for up to 3 months. Take out 2-3 hours before assembly.
The frosting can be placed in an airtight container and refrigerated for 1 week for frozen for 3 months. Bring to room temperature and rewhip before using.
The finished cake (whole or sliced, stored airtight) can be frozen for up to 3 months.
What if I don't have Dutch-process Cocoa Powder?
I like to use Dutch-process cocoa powder in all of my chocolate recipes, but regular cocoa powder will work just fine.
Dutch-process has had some of the acid stripped from it and yields a richer flavour overall. Again, it won't make or break the recipe to use regular cocoa powder here.
What if I don't have buttermilk?
Buttermilk is not optional and cannot be swapped for milk, as it will affect the overall result.
If you don't have buttermilk, you can make your own at home. I honestly never buy it because I only use it in chocolate cake recipes, so often times it will go bad before I can use a whole carton.
Measure out 1 cup of milk (whole milk ideally, but I often just use 1%) and add in 1 Tbsp of lemon juice or vinegar (I always use lemon juice). Let it sit for 10mins, and you have your own homemade buttermilk.
Looking for more classic cake recipes?
Tips for making this Chocolate Cake Recipe
You can use hot coffee instead of hot water in the cake batter for a richer flavour.
The cake batter will be very thin and liquidy. This is normal! It also rises a lot so be sure not to fill your pans more than half full or so.
I used 12 oz of chocolate in the buttercream but am recommending 8 oz in the recipe below. You can use either – the frosting with more chocolate will be softer, but more chocolatey.
If you'd prefer to use an American-style buttercream with this chocolate cake you can try this one or this one. Either will work perfectly.
I used a 1M tip to create the frosting effect on the side of the cake.
Be sure to check my Swiss Meringue Buttercream post for tips and troubleshooting.
Learn how to keep your cakes moist using Simple Syrup.
To help ensure your cake layers bake up nice and flat, check out my How to Bake Flat Cake Layers post!
Chocolate Cake
This classic chocolate cake pairs delicious chocolate cake layers with a rich and silky chocolate buttercream.
Servings 12
Calories 742kcal
Ingredients
Chocolate Swiss Meringue Buttercream:
Assembly:
chocolate curls or sprinkles
Instructions
Chocolate Cake:
Preheat oven to 350F, grease two 8″ round baking pans and dust with cocoa powder. Line bottoms with parchment.

Place all dry ingredients into the bowl of a stand mixer fitted with a paddle attachment. Stir to combine.

In a medium bowl whisk all wet ingredients (pour hot water in slowly as not to cook the eggs).

Add wet ingredients to dry and mix on medium for 2-3 mins. Batter will be very thin.

Pour evenly into prepared pans. I used a kitchen scale to ensure the batter is evenly distributed.

Bake for 45 mins or until a cake tester comes out mostly clean.

Cool 10 minutes in the pans then turn out onto a wire rack to cool completely.
Chocolate Swiss Meringue Buttercream:
Place egg whites and sugar into the bowl of a stand mixer, whisk until combined.**

Place bowl over a double boiler on the stove and whisk constantly until the mixture is hot and no longer grainy to the touch (approx. 3mins). Or registers 160F on a candy thermometer.

Place bowl on your stand mixer and whisk on med-high until the meringue is stiff and cooled (the bowl is no longer warm to the touch (approx. 5-10mins)).

Switch to paddle attachment. Slowly add cubed butter and mix until smooth.***

Add cooled melted chocolate and whip until smooth.
Assembly:
Place a layer of cake on a cake board or plate. Top with approx. 1 cup of buttercream and spread evenly. Place second layer on top and do a thin crumb coat on the cake. Chill for 20mins.

Place 1 cup of frosting on top and spread evenly. Smooth the sides and flatten the top, then use a large offset spatula to do a swirl pattern on top.

Using a piping bag fitted with a 1M tip, pipe rows of frosting around the cake, starting at the bottom. Apply even pressure as you rotate your turntable. Continue working your way up the cake to the top, making sure the seams all align at the back.

Decorate the top with chocolate curls, pearls, and flakes if desired.
Notes
* I used 12 oz of chocolate in the buttercream but am recommending 8 oz. You can use either, but the frosting with more chocolate will be softer and a bit harder to work with.
** Wipe your mixer bowl and whisk down with lemon juice or vinegar to make sure it is completely grease free and make sure there is no trace of yolk in your whites or your meringue will not stiffen.
*** The buttercream may look like it's curdled at some point. Keep mixing until it is completely smooth. If it looks soupy, place it in the fridge for 20mins and rewhip.
Calories: 742kcalCarbohydrates: 87gProtein: 8gFat: 42gSaturated Fat: 27gCholesterol: 94mgSodium: 468mgPotassium: 349mgFiber: 4gSugar: 64gVitamin A: 795IUCalcium: 77mgIron: 4.2mg
The nutritional information and metric conversions are calculated automatically. I cannot guarantee the accuracy of this data. If this important to you, please verify with your favourite nutrition calculator and/or metric conversion tool.
Originally published on July 7, 2018