The perfect pairing of coffee & Baileys in this delicious layer cake. A vanilla Baileys cake layered with dark chocolate ganache and a coffee Baileys swiss meringue buttercream.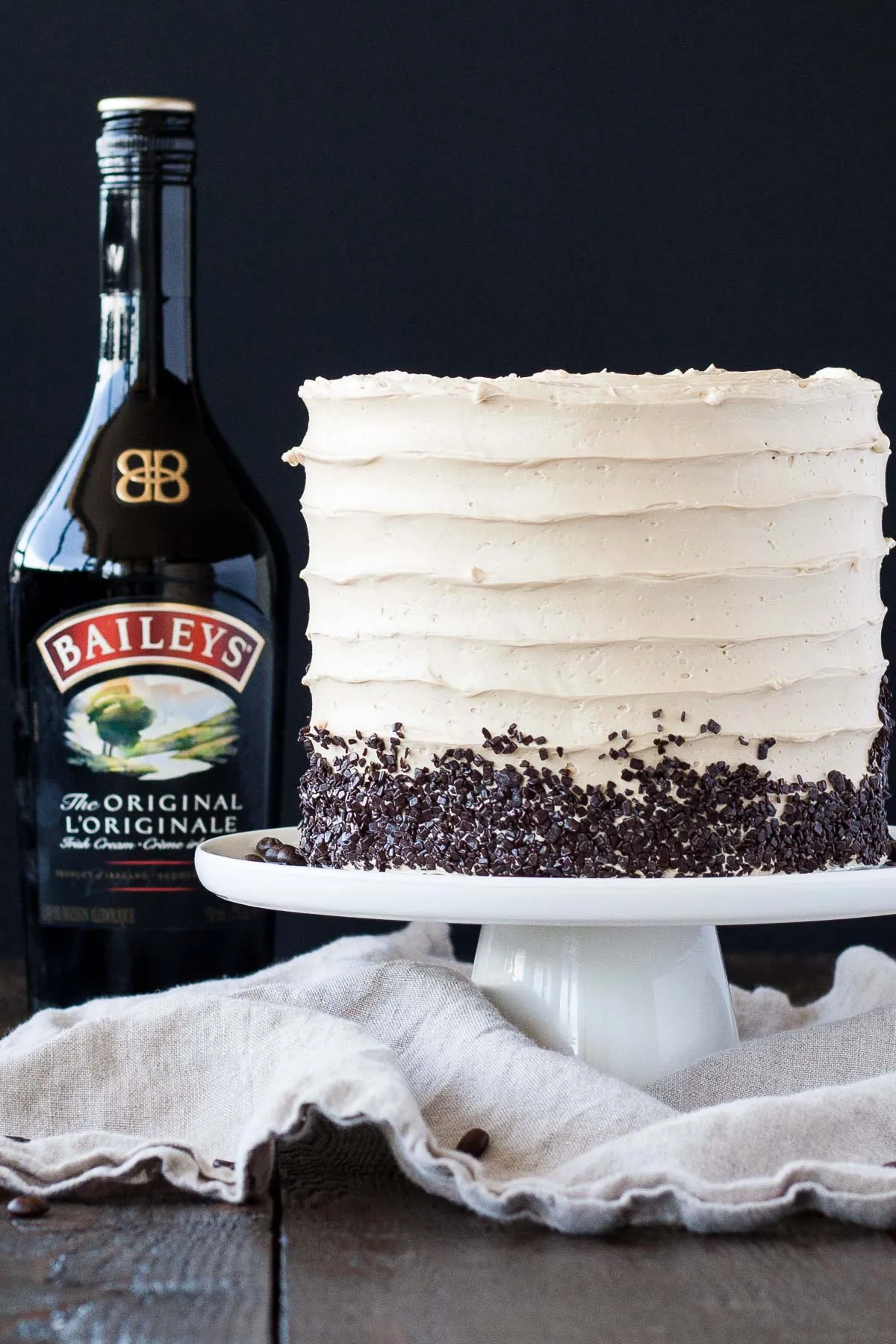 Coffee & Baileys is one of my favourite flavour combinations. While we're not big drinkers around here, you can bet we always have a bottle of Baileys in the fridge. We don't drink it on it's own, but it often gets added to hot chocolate, or coffee, or a variety of baked goods.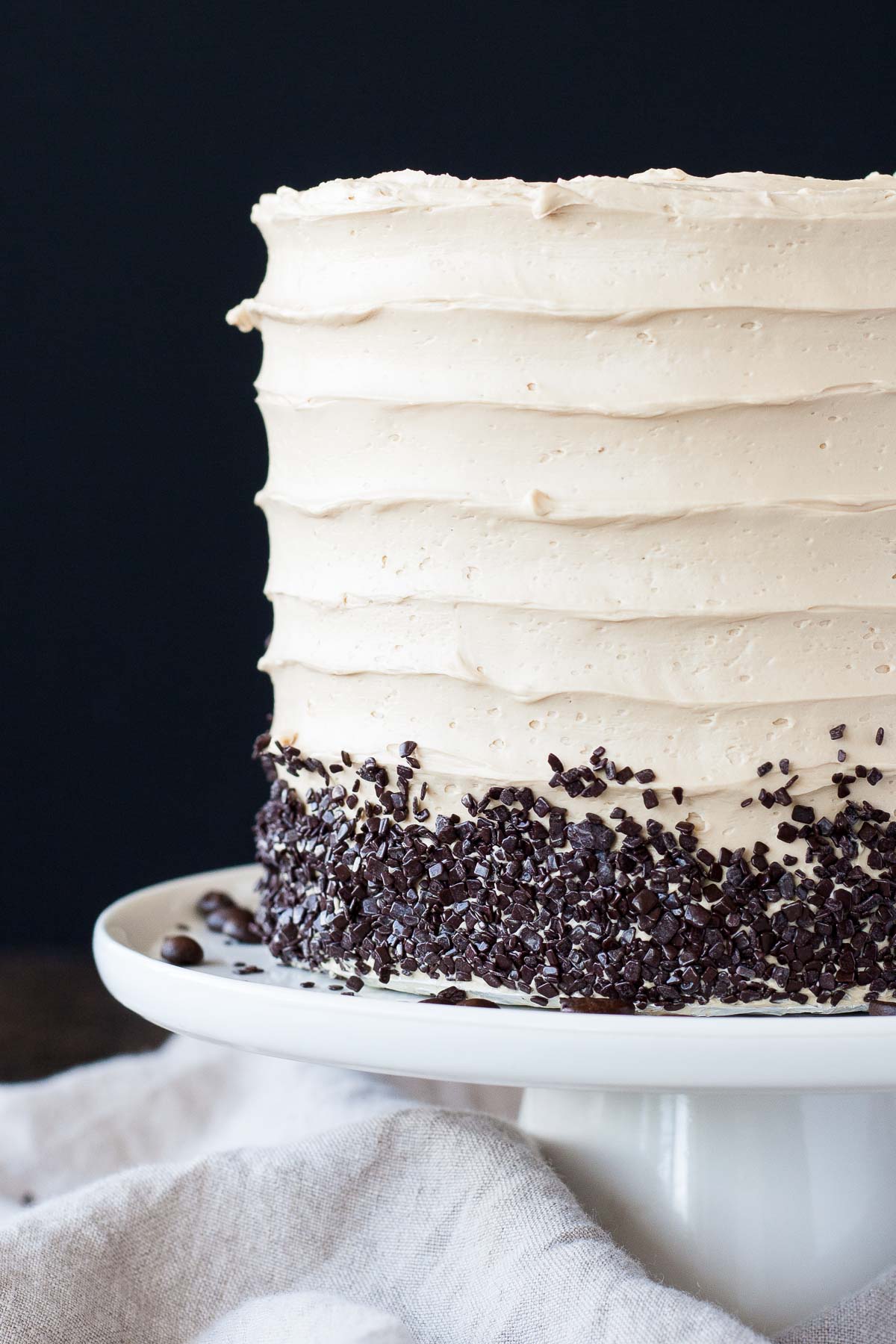 Coffee & Baileys Cake
This delicious Coffee & Baileys Cake consists of:
Baileys infused cake layers
Coffee simple syrup soak
Baileys dark chocolate ganache
Espresso & Baileys Swiss meringue buttercream
I opted to go with a Swiss meringue buttercream as it's one of my favorite frostings. American buttercream is easier to make, so you could use that instead, but I prefer the taste and texture of meringue buttercreams overall. They are much smoother, and not quite as sweet.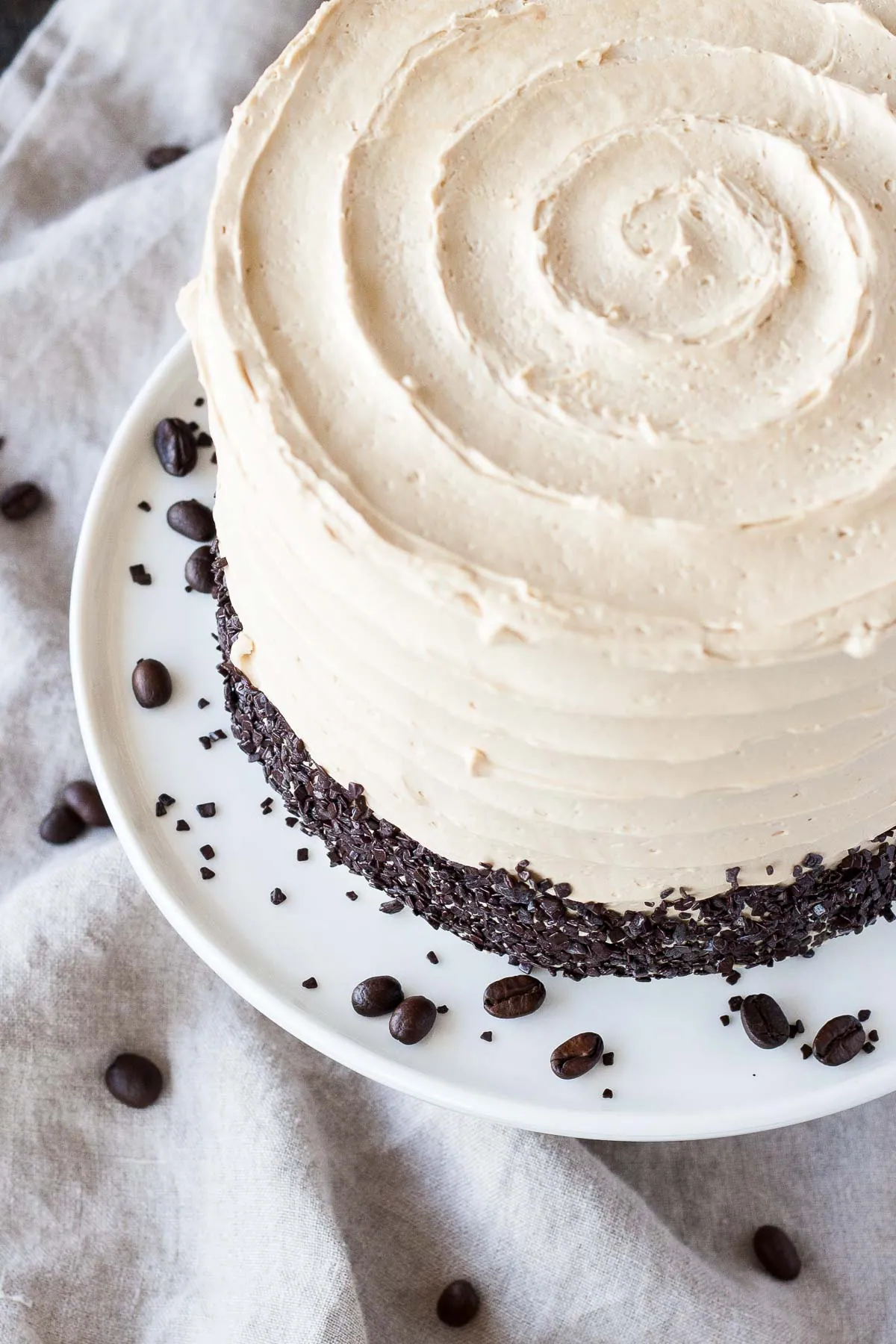 I added both espresso powder and Baileys to the buttercream, but you could leave either out if you prefer — you'd be missing out on a pretty delicious combo though!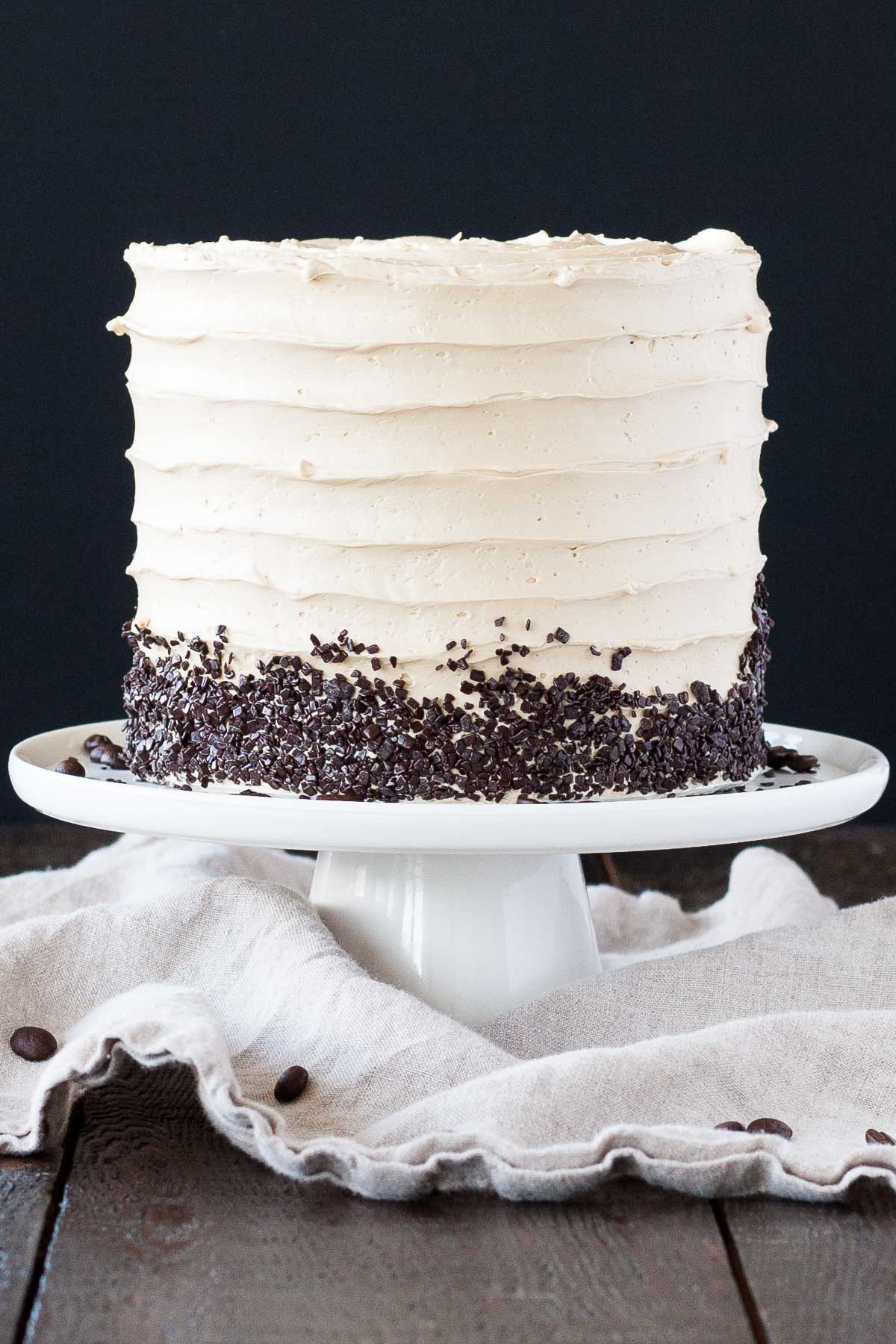 I wanted to keep the decoration on this cake clean and simple, so I opted to go with a pretty swirl pattern like I had done before on my Nutella Hazelnut Cake.
It's a really simple way to give a cake a fancy looking finish. The swirls are far from perfect (especially on the top), but I didn't let that bother me, which is HUGE for me. The old Olivia would have smoothed the whole thing down and started over. The new Olivia clearly has better things to do. It's supposed to be rustic anyhow!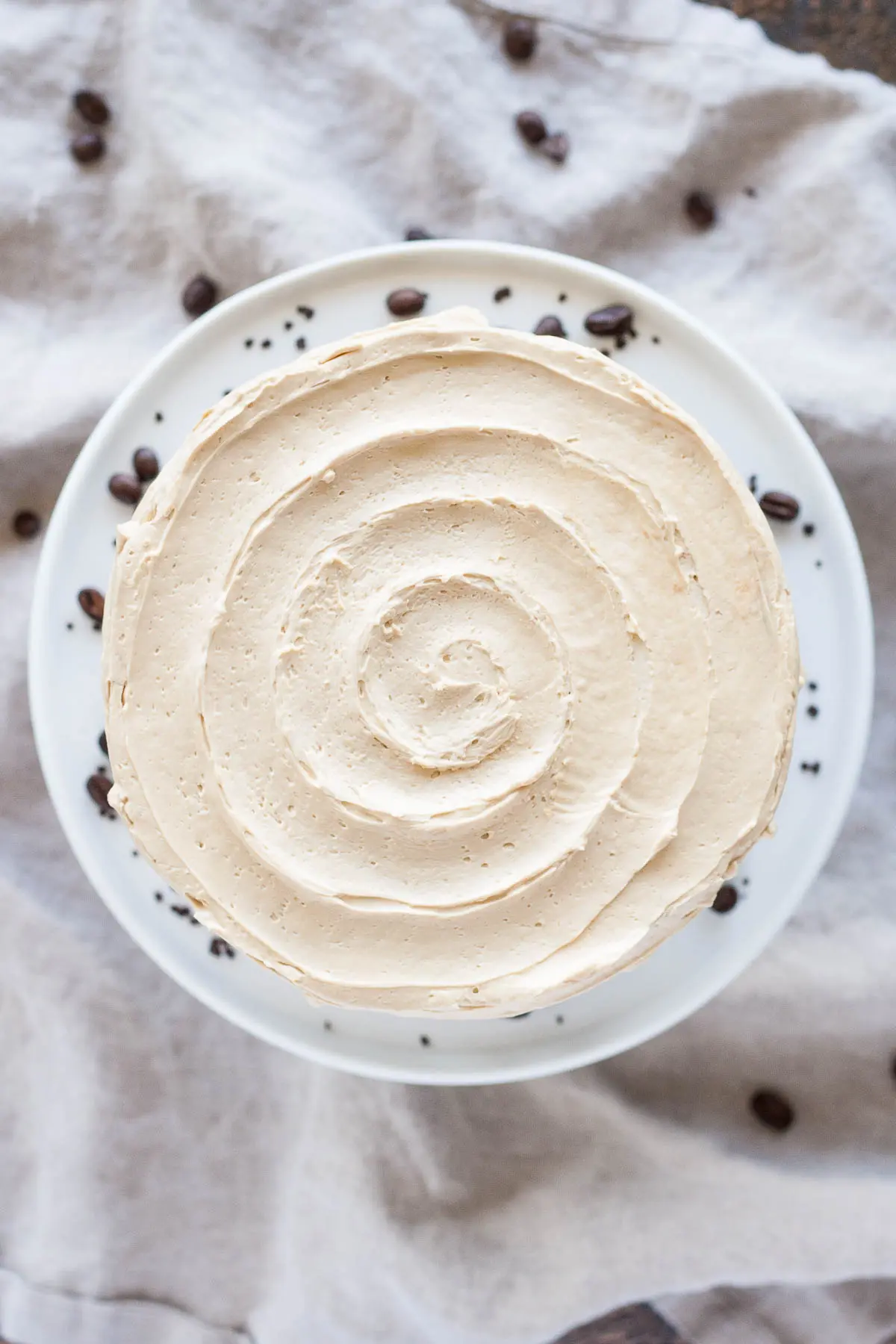 I pressed in some chocolate flakes along the bottom for some contrast using the same technique I used for my Funfetti Cake. Another simple way to fancy it up a bit.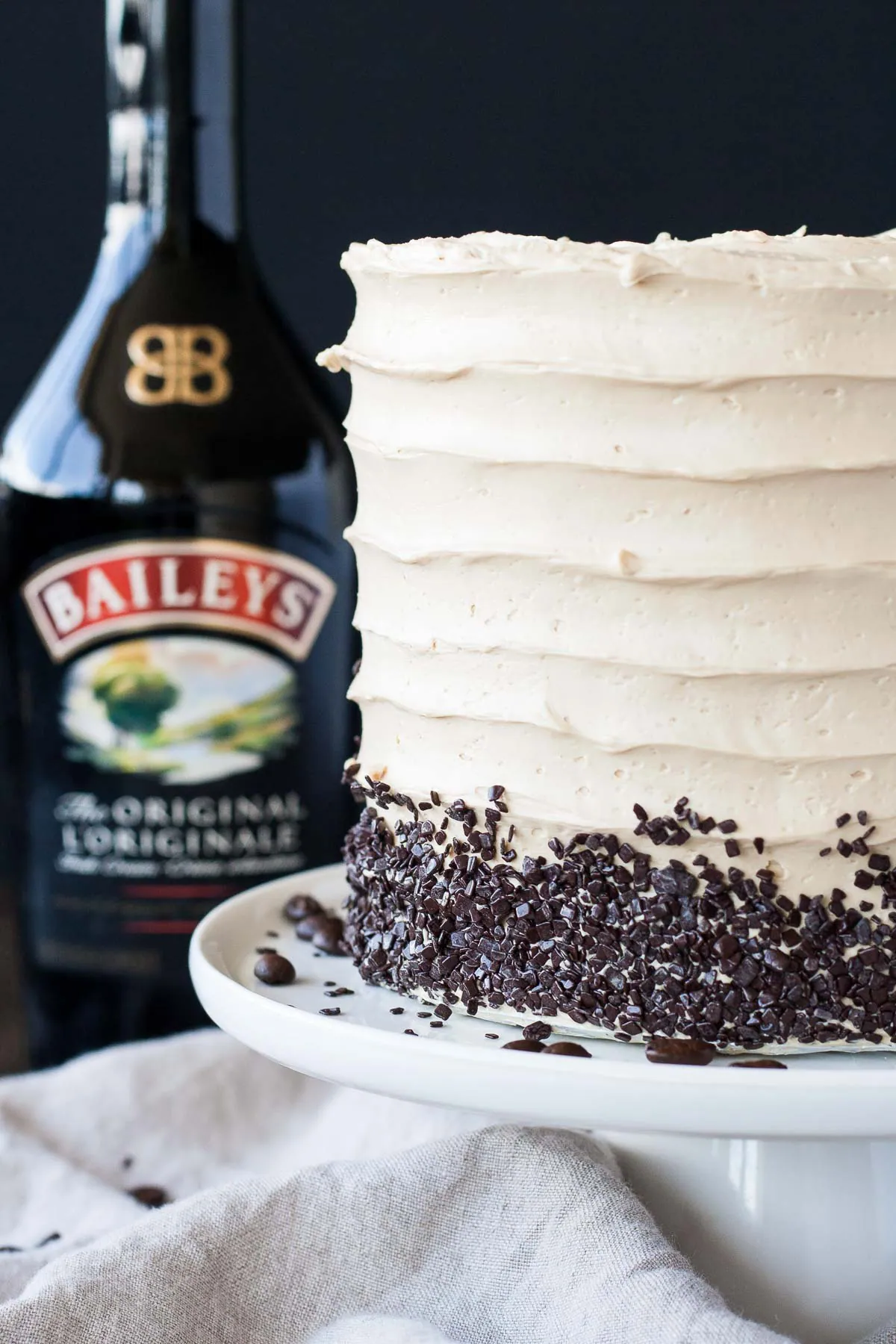 Baileys Ganache
I wanted a bit of contrast between the vanilla cake layers and pale coffee Baileys buttercream, so I spread a thin layer of Baileys dark chocolate ganache on each layer. I think it adds a nice pop of color, and pairs well with the chocolate flakes on the bottom.
See my How to make Ganache post for all my tips & tricks.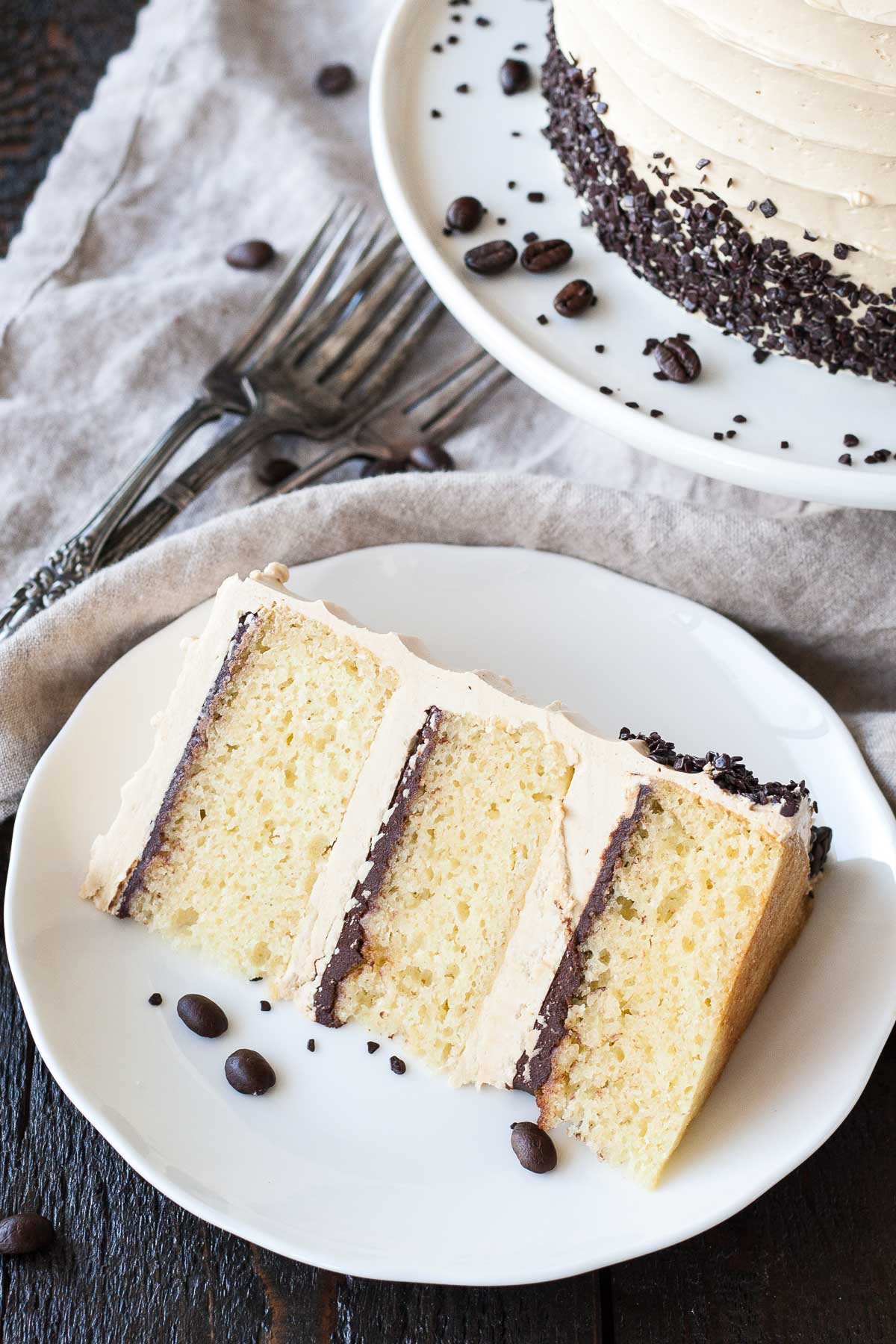 This is one delicious cake! If you're a coffee and baileys fan, you'll be eating that frosting by the spoonful. The vanilla cake lets the buttercream flavour stand out, but the buttercream would pair just as well with a chocolate cake if you prefer!
Tips for this Coffee & Baileys Cake:
***Recipe Revised Jan 2021*** – Increased the amount of cake batter to make thicker layers. Added Baileys to the cake batter and ganache. Added Coffee simple syrup. If you liked the original recipe replace the Baileys with milk and cream respectively. The original recipe used buttermilk instead of milk so you can replace that as well.
The recipe as-is will also work in two 8″ pans. For three 8″ pans, 1.5x the recipe.
To make cupcakes, all you need to do is reduce the baking time — start checking at 15mins or so.
The cooled cake layers can be baked ahead of time, double wrapped in plastic wrap, and frozen for up to 3 months. Take out 2-3 hours before assembly.
The frosting can be placed in an airtight container and refrigerated for 1 week for frozen for 3 months. Bring to room temp and rewhip before using.
Be sure to use espresso powder, not granules in the buttercream. The granules will not dissolve. This is the kind that I use and it works perfectly. Make sure it's instant!
If you can't find espresso powder, then you can use instant espresso granules, but be sure to dissolve them in 1 Tbsp hot water first. Cool completely before using in frosting.
I get my chocolate flakes at The Gourmet Warehouse here in Vancouver, but these ones seem comparable (though it's hard to see in the pic).
Be sure to check my Swiss Meringue Buttercream post for tips and troubleshooting.
See my How to make Ganache post for all my tips & tricks.
Learn how to keep your cakes moist using Simple Syrup.
To help ensure your cake layers bake up nice and flat, check out my How to Bake Flat Cake Layers post!
Coffee & Baileys Cake
The perfect pairing of coffee and Baileys in this delicious cake. A vanilla Baileys cake layered with chocolate ganache and a coffee Baileys swiss meringue buttercream.
Servings 12
Calories 699kcal
Ingredients
Baileys Cake:
2 1/4

cups

all-purpose flour

2 1/4

tsp

baking powder

3/4

tsp

salt

3/4

cup

unsalted butter

room temperature

1 1/2

cups

granulated sugar

3

large

eggs

room temperature

1

tsp

vanilla

3/4

cup

milk

room temperature, can use buttermilk

1/4

cup

Baileys Irish Cream

room temperature
Coffee Simple Syrup (optional):
Coffee Baileys Buttercream:
Instructions
Baileys Cake:
Preheat oven to 350F. Grease and flour three 6″ cake rounds, line with parchment.

In a medium bowl, whisk flour, baking powder, and salt and set aside. Combine milk and Bailleys, set aside.

Beat butter until smooth. Add sugar and beat on med-high until pale and fluffy (2-3mins).

Reduce speed and add eggs one at a time, fully incorporating after each addition. Add vanilla.

Alternate adding flour mixture and milk mixture, beginning and ending with flour (3 additions of flour and 2 of milk). Fully incorporating after each addition. Mix until just combined

Spread batter evenly into prepared pan and smooth the top with a spatula.

Bake for 30mins or until a toothpick inserted into the center comes out mostly clean.

Place cakes on wire rack to cool for 10mins then turn out onto wire rack to cool completely.
Coffee Simple Syrup:
Bring sugar, water, and espresso powder to a boil in a small pot over med-high heat. Simmer for 1min. Set aside to cool completely.
Baileys Ganache:
Place chopped chocolate, Baileys, and cream into a microwave safe bowl, stir. Microwave on high for 30 seconds, stir. Again, microwave on high for 30 seconds, stir until smooth. Cool completely until thickened, ideally overnight.
Coffee Baileys Buttercream:
Place egg whites and sugar into the bowl of a stand mixer, whisk until combined.*

Place bowl over a pot with 1-2″ of simmering water and stir constantly with a whisk until the mixture is hot and no longer grainy to the touch or reads 160F on a candy thermometer (approx. 3mins)

Place bowl on your stand mixer and whisk on med-high until the meringue is stiff and cooled (the bowl is no longer warm to the touch (approx. 5-10mins)).

Switch to paddle attachment. Slowly add cubed butter and mix until smooth.

Add espresso and Baileys. Whip until smooth.**
Assembly:
Place one layer of cake on a cake stand or serving plate. Brush generously with 2-3 Tbsp of coffee syrup. Spread a layer of ganache and then top with buttercream. Repeat with remaining layers and crumb coat the cake. Chill for 20mins.
Notes
* Ensure there is NO trace of egg yolks in your whites and that your mixer bowl and whisk is completely grease free or your meringue won't stiffen.
** The buttercream may look like it's curdled at some point. Keep mixing until it is completely smooth.
Calories: 699kcalCarbohydrates: 68gProtein: 7gFat: 44gSaturated Fat: 27gCholesterol: 150mgSodium: 194mgPotassium: 249mgFiber: 2gSugar: 47gVitamin A: 1260IUCalcium: 82mgIron: 3mg
The nutritional information and metric conversions are calculated automatically. I cannot guarantee the accuracy of this data. If this important to you, please verify with your favourite nutrition calculator and/or metric conversion tool.
Originally published on Apr 3, 2016